Dedicated data-driven
REPORTS
Personalised reports about players, clubs, competitions and regions offering unique actionable insights with respect to recruitment decisions and player/team performances.
Scouting & recruitment
> Player Selection Reports
How to detect and find upcoming talents?
Are you searching for undervalued players?
As a football professional you want to have the privilege to scan specific regions, countries, leagues and tournaments at a glance. By using the SciSkill Index and its filters we are able to deliver player lists which meet the criteria of scouts and agents.
Basic filters consists of age group, SciSkill range, player's potential and development, contract expiry date and market value. Start your membership rightaway and don't miss out on anymore hidden gems.
> Customisation
Do you want more in-depth reports based on event data and analytical models like Player Roles & Expected Goals? We are able to deliver custom reports based on your intake wishes.
Statistical Comparisons: compare multiple players based on their data profile
Match Preparation Reports: prepare your staff for selected matches
Interested in one of the above mentioned reports? Or do you have a specific question related to your scouting and recruitment activities? Get in touch to explore the opportunities.
PLAYER SELECTION REPORT EXAMPLE
Performance analysis
> Opponent Analysis
How to detect patterns of play for upcoming opponents?
With our Opponent Analysis we serve the technical staff of clubs and federations with actionable insights with respect to player and team performace. This report will support you in team preparation for upcoming matches by delivering unique insights of playing style and patterns. A powerful source of information to use alongside live and video scouting.
Highlights summary and key performance factors (E.g. goals scored/conceded, attempts and build-up play);
Selection overview opponent and insight of key players, substitutes and formations;
Key insights into an opponent's defensive system (goals conceded) based on event data;
Key insights into an opponent's attacking style of play (goal and chance creation) based on event data;
Build-up play on team and player level (E.g. common player combinations, pass directions and ball receivers).
> Customisation
Are you looking for specific details or team analysis based on own performance indicators? Our team of Datascouts is available to help you out. In addition to Opponent Analysis, we offer custom reports in the following fields:
Match Reports: statistical analysis of your last played match
Season Evaluations: review of performances uptill winter break or over a full season
Interested in one of the above mentioned reports or searching for something specific to support you in the performance domain? Get in touch to explore the opportunities.
OPPONENT ANALYSIS REPORT EXAMPLE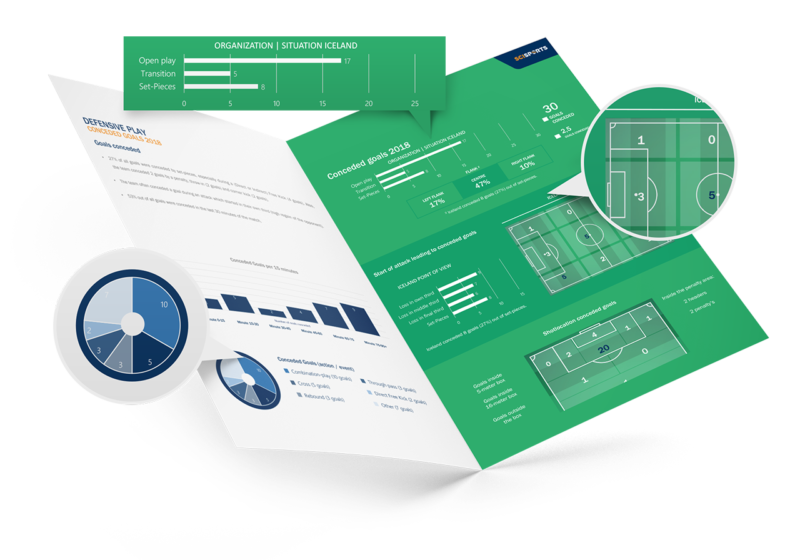 Career Strategy
> Player Transfer Adivce Reports
What could be an interesting next step in the career of my player?
If you are keen to move from one club to another, why not use data to test your proposed transfer against objective information? With the Player Transfer Advice Report we are able to back-up your personal opinion or provide you with new insights. This analysis is frequently used by players and agents to support their decision making process and reduce the potential risk on a transfer.
The report is put together based on an analysis of four components. These include advanced statistical data on the player, comparable players who made a transfer in the past as well as the playing style of several clubs. These aspects will lead to a shortlist of clubs which meet the requirements for a player's development. As a next step we will focus on competition in a player's favoured position, the trainer/coach and the vision and strategy of the suitable clubs. Any preferences or other criteria of the player and/or his agent are taken into account as long as they don't impede a pure and straightforward research process.
> Customisation
Our team of Datascouts uses data intelligence applications to advise agents, agencies and individual players to make the best decisions throughout their career. The Player Transfer Advice Report is a frequently used example of this. Additionally, we offer several other reports supporting your decisions, among them:
Statistical Comparisons: statistical comparison between your player and, for example, his role model or competitor
Career Comparisons: overview of a player's development over his career compared to similair players on the same position
Interested in one of the above mentioned reports or searching for something specific to make better decisions in your players career development? Get in touch to explore the opportunities.
PLAYER TRANSFER ADVICE REPORT EXAMPLE
Our team of Datascouts provide clubs, agents, associations, players and other football-related parties with dedicated reports based on SciSports' internally developed models and algorithms.
Well-educated employees with a wealth of football experience
Your question bank to gain information and new insights
Manufacturing of specific reports
Pro-active reports on development in the market
CONTACT US
Get in touch if you have any requests regarding reports
TRACK RECORD
Read more about our accomplishments in the industry